LOOP presents 〜Open Air Free Party〜
日付
2016/4/23(sat)〜24(sun)
时间
19:00〜14:00
场所
Ooba营村
住址
东京都西多摩郡日出町大久野 3741 【地图】
入场费
免费
音乐流派
PSYCHEDELIC / TRANCE / TECHNO / HOUSE / PROGRESSIVE
信息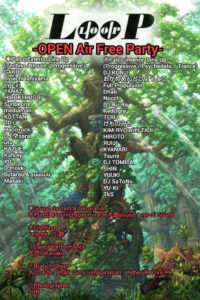 ○Date 2016.4/23(sat)〜4/24(sun)
○Entrance Free!!
※Bringing food is OK, prohibited drinks.
○Open 18:00
○Start 19:00〜14:00
○Space Ooba camp village
○Bungalow ¥20,000
※Check in time is not specified, Check out is 24(sun) 12:00.
iFLYER→http://iflyer.tv/ja/event/254759/
clubberia→http://www.clubberia.com/ja/events/247751-Open-Air-Free-Party/
Facebook→https://www.facebook.com/events/1677746385837551/
TOKYO CLUB GUIDE→http://jp.tokyoclubguide.net/2016423-loop/
○Palco Exterior Line Up
(Techno / House / Progressive)
・GAKU (SILK RECORDS / EMPRESS / DoubleSpiral)
・Ryuichi Ishiyama (NEO TOKYO / NDC)
・syo-zi (E.U / NDC / ziel)
・YANAZI (xxx VISION / ELEC-TION)
・HIROKI HOSOI (rapture-sounds / ELEC-TION)
・Sunbeone (MediaTownDJs / MovemEnt)
・mediaman (MediaTown DJ's)
・KOTTAN (CARAVAN)
・I.P.U(ADS / おかめあんどひょっとこ / いわくつき / 日本)
・Haccirock (Elektram Recordings)
・DJ 空sora (FLASH / ARCH420)
・uta (Territory)
・KAZUE (BLACK RAIN / NUTEK / C-LES / IDPS)
・Kafkey (c-les)
・YU- (Ecstasy / ongi / MVL)
・DJnosk
・butarou & yuuuuu
・Masaki (LOOP / Atlantis Records / Loose Records)
○Palco Interior Line Up
(Progressive / Psychedelic / Trance)
・DJ KUNJI (UP!NOIZE Records / BLAST)
・おかめあんどひょっとこ (日本)
・Full Propulsion (Loose Records)
・Dhali (FunkTime)
・NoccI (Nutek Japan / MATH TOOL / N.2.N)
・DJ Ru-Ra (Under Voice Records / Juayhu Records /S.O.F / Eternal geek Jp)
・RedOgre (SKETCH UP! Rec. / Psycho Filth Records / FREAKIN WORKS)
・TERU (FinePlayMusic / territory)
・けものみち (FLASH / 未来工場)
・KIM-RYO with TAJI (木村SOUND / 陰陽蔡 / SOU PRODUCT / 田島SOUND / FLASH/ 和刻)
・HIROTO (ONLINE)
・ЯUIJI (ONLINE)
・KYANARI (Native Lab.)
・Tsune (Candyflip / Mvl)
・DJ TOMITA (Candyflip / NakeD / Territory)
・SHIN (Candyflip)
・YUUKI (ETERNAL MUSIC)
・DJ SaToNo
・YU-KI
・TkS
○Sound System & Decoration
・木村+田島sound hyper miracle木島sound (Palco Exterior)
・syo-zi Sound (Palco Interior)
○Lighting
・reactor
・小鉄
○Dance Performance
・大豆
・Kanako
○Branch Shop
・Arch420
・Dhali Curry
・ imagination
・INtheGROOVE
○Photographer
・JUN (INtheGROOVE)
・Notice
※Garbage, tent, please take home sure.
※Parking violation, please refrain.
※20-year-old less than liquor, smoking, please refrain.
※Bringing of drugs and hazardous materials please refrain.
※Please managed by their own valuables.